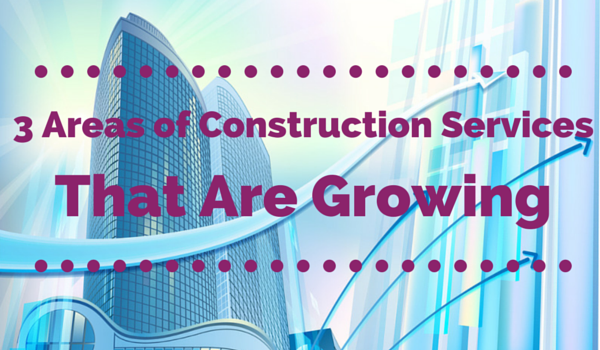 Now that the American economy is finally on the rise, construction services are back in demand. But when you are a DFW construction investor in building projects, it can get complicated on deciding which types of construction services endeavors would be the best investments. Luckily there have been several facets of the construction industry that are projected to be particularly profitable. Here are 3 areas in the construction industry that experts say are on the rise.
Manufacturing Is Stimulating Industrial Construction Services
As America's economy strengthens, so does its need for retail items. As people buy more items online, building facilities that arrange and ship orders can mean significant profits for construction services. In addition to warehouses specifically designed to build or create products, there are also facilities needed to house finished products that are waiting for transportation. Many of these changes that have resulted in the need for new buildings are centered around e-commerce. For instance, the Electrical Contractor Magazine states that in 2014, "6.4 percent of all retail activity in 2014 continued to fuel this building sector."
Office Buildings Are Leading Commercial Construction
Retail and office space has always been a profitable sector for construction services, but the types of projects available in 2015 have changed. In particular, the location of the office building is shifting. Instead of having office buildings strictly in downtown locations, they are now finding a new way of life in the countryside or suburbs. Econometrics estimated that in 2014, office construction services expanded by 23% from 2008 figures. The square footage per project has increased by about 28% due to the dominance of Internet-related jobs. Many new office buildings are construction service projects focused on the technology and data industry. Currently, Texas is the leader in office building construction projects.
Charitable Donations Are Increasing Church Construction
Perhaps the most surprising growth of construction projects across America comes from charities. As the incomes of congregants grow due to the improvement in the economy, more money is being contributed to charities, churches, mosques, synagogues, and temples. As much as houses of worship are needed, the expansion or remodeling of current religious properties is also becoming a popular construction service. Atlas of Giving published research that stated, "donations to religious organizations showed an increase of 8.8 percent in 2013."
Get a free design from Nationwide Construction!
We are happy to help you with a free construction design, and we have the advice you need to make every dollar you spend on your next construction project count. Whether you want to build for your business or an investment, we have the tools you need to succeed. Click here or call 817-473-0484 to get your free design started!