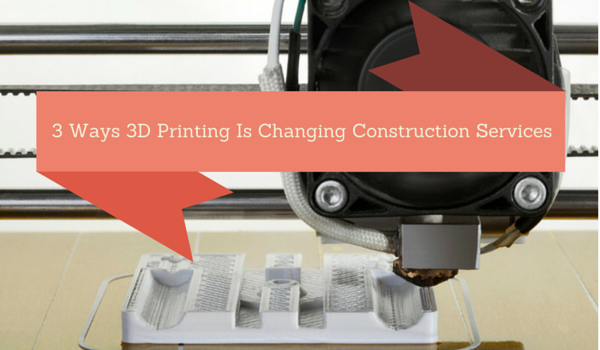 Scale models bring a project one step closer to the building process, so it's easy to assume that these prototypes represent the future of 3-D printing in construction services. Don't limit your imagination to something small with this revolutionary technology because it's quickly evolving from table-top models to full-scale applications for Texas construction companies. Here are just 3 ways 3-D printing stands to change large-scale construction services.
Lowered Material Expenses For Construction Services
With 3-D printing machinery, construction companies can use a process called contour crafting (link) that generates construction materials through data interpretation to form building components. The layered fabrication mixes concrete and special composites to produce structural elements in a matter of minutes. The material is thicker than ordinary concrete and self-supports itself. Traditional construction techniques rely on straight lines for structural stability, but large-scale 3-D printing allows for curved components featuring higher levels of material strength. According to a recent CNET report, 3-D technology can lower construction material expenses by 30% to 60%.
Reduce Labor Costs
The cost-saving potential of 3-D construction printing extends to the job site with customized, project-ready structural elements that don't need intensive prep. Speedy material production keeps the project fully supplied, so schedules move forward without delays. Time-consuming operations will give way to a quick placement of precisely fabricated components, and structures that are assembled in record time. The mechanical efficiency and material strength of contour crafting also contribute to on-site job safety. A 3-D manufacturing process can reduce traditional construction labor costs by 50 – 70 percent.
Expanded Design Capabilities
Contour crafting offers architects unique opportunities to break out of the rectangular design box. Integrating curvilinear elements into a building's design expands aesthetic options while it also simplifies structural issues. The strength of building materials formed with 3-D technology can produce hollow components that is modification ready. This allows for greater flexibility in infrastructure planning from plumbing and wiring to reinforcement and insulation. The 3-D construction printing process integrates design and engineering with fewer constraints on initial planning and on-site construction.
Yesterday's science fiction is tomorrow's technology, and we're excited about the changes that 3-D printing promises to bring to the building industry. Click here or call (817) 473-0484 today about our no-obligation planning packages, and let us help you build the future.