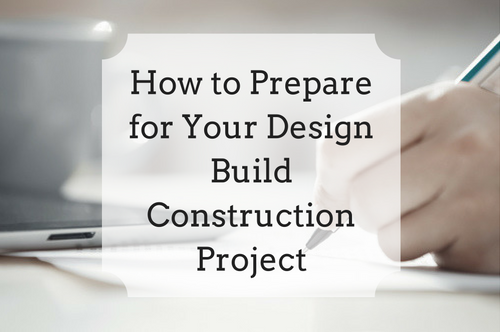 Commercial construction projects are well suited for the design build model, where all of your architectural, engineering, and construction services are provided by a single source team of knowledgeable industry professionals. This approach is aimed at providing the best product, in a timely manner, and at the best price point. Quality and efficiency are the goals.
When preparing for your design build construction project, it's wise to have your project parameters well defined and to have all of your questions and concerns for the team well thought out. Here are some suggestions for preparing for your initial meeting and the project going forward.
Outline Your Project Scope and Required Specifications
As the project owner, or owner's representative, you are the only one who truly knows what your wants and needs are for a successful project outcome. Start by writing a wish list of what you want and what you anticipate the final outcome to be. Take that list and add specific details to each item. For instance, if one of your must have items is a monumental glass storefront with high visibility to the interior space, break that down into: a framed or frameless system; preferred type of glazing; style of automatic doors; security features, etc. Your design build team will be able to assist you with expert advice, opinions, and budgetary concerns for all of the items in your scope.
Do Your Homework on Current Trends
Know what is popular and successful in your market. Visit successful competitor's venues. Bring a notebook and a camera (or phone) to record what you think is working well within the space. Go through trade journals to see what's trending. Don't be shy about cutting out photographs and articles that might be helpful in explaining your vision for your commercial construction project.
Research LEED and Energy Rebates
There is potential to earn LEED credits or financial incentives for implementing energy efficient design ideas. Check with your local utility companies to see if they are offering anything in return for installing things like dynamic glazing, LED lighting, or high efficiency HVAC systems with air exchangers. Your design build team can help you by specifying the appropriate products and systems that you have researched.
Know Your Budget
The sky is the limit in commercial construction when it comes to budget. You need to fully understand what your maximum budget is. It does you and your team a disservice when you have not properly considered your financial parameters and your funding availability. Meet with your financial advisors and partners in advance of even considering a design build project. You want to avoid having to go "back to the drawing board" if the project is overdesigned because there were no financial boundaries established. This may end up costing you in design revisions and change orders.
Write Down ANY Questions You Want to Ask About the Team and the Process
This is your project. Do not be afraid to ask anything, no matter how trivial it might seem. You are about to establish a relationship with a team of professionals who are looking out for your best interests. If you all work well together, the outcome is advantageous to all parties. Communicate by asking questions. Some initial things you might want to know are:
Who are the team members and what are their qualifications
Who is my point person on your team
How long does a typical project like this take
Are you fully insured
Do you have at least 3 references I can check
Who are your subcontractors
Will you be handling all permits, inspections, testing, and certificates of occupancy
As the project progresses, continue to ask pertinent questions. Make a schedule for weekly meetings, in person on the job site or via Skype. Constant communication is vital in making sure a design build construction project runs smoothly and meets everyone's expectations. It is the key to a successful outcome.
At Nationwide Construction, we are confident enough in our process and experience that we offer our free construction design plan so that you can feel assured knowing that your construction project is in capable hands.