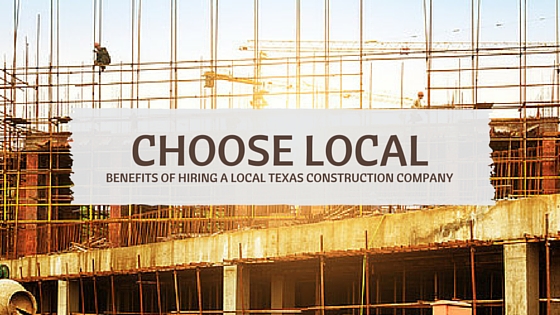 Are you checking out Texas construction companies for your project in the Dallas – Fort Worth area? Many construction companies take projects across the state, relocating their teams, tools and equipment according to the client's needs. But there are also companies that only accept local projects, so that their managers can supervise the teams closely and keep in contact with the client.
Whom should you hire? The decision is all yours, but if you consider your options carefully you will see that hiring a local construction company brings more benefits than working with an out of town construction company in Texas.
5 Benefits of Working with a Texas Construction Company in Your Area
1. Better Communication
You need to discuss your project details with the person in charge of the work, face-to-face, on-site or in their office. Unless you are willing to travel for hundreds of miles, that will not be possible with many big companies.
However, if you hire locally, you will be working with a company based in the local area, close to your home or workplace. They are more likely to go the extra mile to accommodate you, even when that means meeting you outside regular work hours.
2. Easy to Check References
When you work with an out-of-town company, for example, you can trust the reviews on their website, a voice telling you over the phone what a great job they did, or travel 250 miles to see a project they completed.
When you hire locally, you get to see the former clients' reactions and evaluate the results of the company's work in person, without wasting time and effort. If they made mistakes or disappointed a client, it is likely you'll hear as nothing beats word of mouth when it comes to dissatisfied customers.
3. Savings
If you work with a remote company, they will incur higher costs, having to relocate their teams and resources. If you work with a company in your area, all these extra costs disappear. Besides, hiring locally means investing in the local economy and one way or the other, you will be among those who reap the benefits.
4. Better Services
While out of town companies may offer great customer service, only a local contractor will be familiar with the paperwork requirements for the authorizations and permits you need locally. They will also be able to recommend local suppliers with the lowest prices.
5. Comprehensive Warranty & Affordable Upgrades
Once your project is completed and the out-of-area team leaves your property, bringing them back to fix your roof or patch the floor will be costly or difficult, even with a warranty in place.
Local contractors cannot afford bad publicity, so they will go the extra mile to ensure your satisfaction. They will also be very receptive to your upgrade needs, even when they are minor.
How to Get the Best of Both Options
Choosing to hire locally does not mean you have to settle for a small company that lacks resources and skill. Nationwide Construction is one of the largest Texas construction companies managing commercial and industrial projects.
We encourage our clients to get involved in all the aspects of their projects, from planning to completion, and we provide personalized customer service. You can see all this yourself with our no-cost, no-obligation planning package. Contact us now and let us show you what working with one of the best Texas construction companies and enjoying quality service is all about!