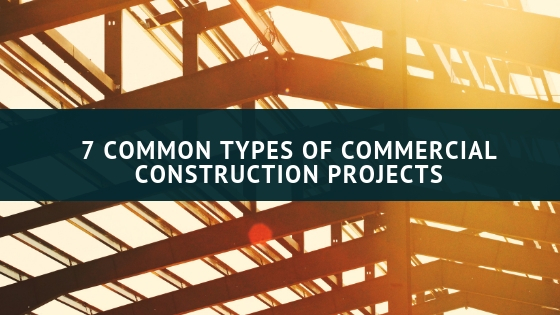 In the world of construction, the type of project that's undertaken can vary among the array of different clientele that seeks to build a particular commercial structure. Certain aspects of those jobs will be similar, yet knowing the different nuances that are required are what end up making the ultimate choice of which commercial construction company to use a more simple endeavor.
Below are a list of seven common types of commercial projects that are constructed in the current marketplace:
Grocery and Retail Stores
Since the hope that such places will be frequented by customers on a regular basis, the overall layout of the building that's either constructed or renovated is important. This means that the look of both the inside and outside has to take into consideration more fluid movement in the former area while also present a welcoming look from the latter perspective.
Restaurants
When it comes to restaurant chains, conforming to the guidelines set out by the corporation is paramount to successful construction. For individual establishments, coming up with a unique or innovative approach can make a huge difference when it comes to customer comfort and employee versatility. One important difference in this type of project is understanding the local regulations that pertain to safety matters and other matters related to the kitchen area.
Lodging Facilities
This largely focuses on the hotel and motel industry, which focus on issues like ease of access as well as the level of comfort and privacy for guests. Some motel construction projects can be very basic, while massive hotels demand an experienced hand during that particular commercial construction. Knowing that the ability to enjoy peace and quiet can be integral to repeat business, this type of build sometimes needs to juggle issues like sound-proofing with a background that can offer experienced know-how.
Office Buildings
The scope of these types of buildings can range from functional facilities for a small firm to skyscrapers for a major corporation. In the latter case, that can also include one that have blends multiple businesses within its vast framework. The type of business using this building could mean setting it up in a different fashion, as opposed to simply using a cookie-cutter approach. At the same time, construction necessities like bathrooms and fire escapes must address vital access concerns.
Industrial Buildings
While the home base of some businesses may be in an office, companies that produce items on a daily basis need facilities to house necessary machines or equipment, storage areas and other facets. That can mean the ceiling heights of particular rooms need to be adjusted or lower levels need to be constructed. The type of business can also mean that making it easier to address safety matters can be part of the construction process.
Medical Facilities
The need for places like hospitals will never fade, yet smaller clinics and buildings that deal with the pet population are also part of this equation. All of these areas need construction that factors in easy movement for personnel and patients while also making room for things like potentially life-saving equipment. Accessibility in this instance will need to be aware that all segments of society will likely be using the facility.
Athletic Structures
Massive stadiums are often the first thing that comes to mind when this is mentioned. However, smaller facilities for high schools, fitness centers and other playing areas can also be noted in the same breath. These structures often need to include aspects like bleachers or other pertinent items in the overall project, while also taking the need for visitor safety seriously.
The Right Choice
Nationwide Construction has been around for more than three decades, having established a proud legacy of completing more than 500 projects. The capabilities of our staff goes beyond the areas listed above, so when the time comes that you need an experienced commercial construction business, make sure to contact us at Nationwide at 817-473-0484. Our track record says it all.