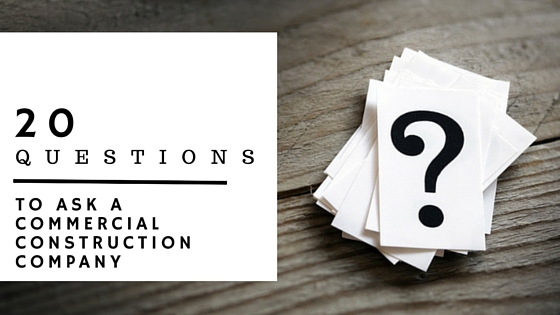 When it comes time for a commercial renovation, build or repair, it's often part of a larger operation and budget, and choosing the right commercial construction company is important to a project's success. Texas has many commercial construction companies, but choosing the right one takes research. The more information you have, the easier it is to choose the best company for your project.
20 Things To Ask Commercial Contractors
Here is a list to help you gather essential information when choosing a contractor:
1. Tell me about your business and its history. Discover how long the contractors have been in business, what states they're licensed to work in, etc.
2. What other projects have you worked on? References tell how a company works, how efficient they are and how well they communicate with clients.
3. Do you have site supervisors and subcontractors? It's important to have a company point of contact on the construction site. Don't rely on subcontractors for this role.
4. Are you insured and certified? Ask about liability insurance and workers compensation to make sure that all site workers are covered.
5. Do you have a project timeline? Establish a timeline and deadlines to set project expectations, start dates and end dates. Build in extra time for uncontrollable events like the weather.
6. What is your payment schedule? Be frank when talking about money. Details matter and knowing when payments are due and how much they will be ensures everyone is on the same page.
7. What's unique about your processes? Experienced commercial construction companies often have their own processes they've honed over the years.
8. Who's designing the job? Does the contractor use its own engineers and architects or is the work outsourced? Which firms do they use?
9. How soon can construction start? With large commercial construction projects, the longer they take, the more they cost.
10. Do you provide guarantees? Find out what kind of guarantee a Texas construction company provides and get it in writing.
11. How often do projects miss deadlines? Ask the company and its references this question.
12. How do you contain costs? Some companies have subcontractors bid on a project's different parts. See if yours does.
13. Do you have a claim record? Claim records indicate how often past clients have not been happy with a company's work.
14. How's your safety record? A safe job site indicates that a company cares about their workers and their work overall.
15. What similar projects have you worked on? If your project is outside of a contractor's scope, it might not be the best choice.
16. How do you resolve differences of opinion? Find out if they have a punch list system, a warranty or an arbitration clause in their contract.
17. Who are your suppliers? The quality of the materials being used in your project is important once the construction crews are done and gone.
18. Is your bid an estimate or a fixed price? Establish costs in the beginning, so there are no surprises moving forward with your project.
19. Who does your finishings? No one will know what things look like behind the walls, so ensure everything visible to the public looks good.
20. Does our project fit your schedule and business model? A company might not be the right fit, regardless of their work or track record.
It's important to find the right commercial construction company to take care of your project. For more information about commercial construction, or to find a Texas construction company contact Nationwide Construction today.