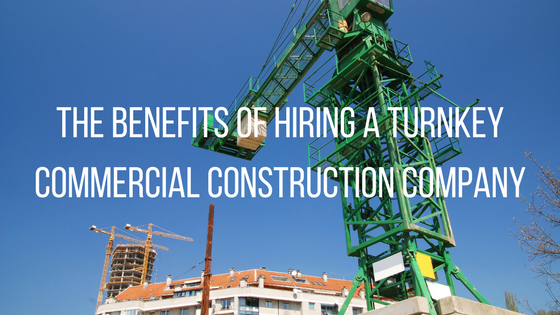 The hiring of a commercial construction company for a project is done with the idea that professionals will be able to deliver a structure that fits the needs of the company financing the effort. In most cases, that's an accurate assessment, yet there are times when unforeseen issues develop. Those latter instances help make the concept of turnkey commercial construction a more viable way to address such concerns.
Below are a list of reasons why turnkey commercial construction makes perfect sense when hiring a commercial construction company is on the agenda for a firm:
Clear Coordination
Construction projects, especially those in the commercial sector, can be inherently complicated because of all the different aspects involved. Attempting to simply get a design of a proposed building, followed by the hiring of a contractor and all of the other duties involved can be a hassle that eats away at time that's better spent on a company's day-to-day operations.
The turnkey model is specifically set up to put all of the components required in the hands of experienced professionals that know how to check all the boxes necessary. This avoids the glitches that have a way of grinding projects to a halt.
A Steady Flow of Communication
 
Given all the moving parts that are indicative of construction projects, getting a sense of the current situation can be difficult. For example, getting in touch with key individuals can become problematic and raise the stress levels of a business. Within the turnkey framework, such concerns dissipate because of the easy availability of select personnel.
That communication really kicks into gear during the design process, where a company can deliver their ideas about what they're seeking. This allows for the peace of mind that arrives by knowing that the turnkey construction that follows will be the vision of the company and not the builder.
Smooth Scalability
Change is ever-present in all facets of life, including in commercial construction projects. A shift in circumstances has the potential to put a crimp in established deadlines or can lead to a diminished focus on delivering a quality effort in order to keep a process flowing.
The use of technology to adapt to those changes helps ramp up the level of productivity with respect to a particular project. This ties in with both the coordination and communication processes. That's because one of the ways that makes turnkey construction beneficial is that easy access to the multitude of subcontractors involved helps keep everyone in the loop.
Maintaining Quality Control
Handing off a commercial construction project to a company requires having a certain level of trust in their ability to do things right. Adhering to the expectations for workmanship and materials for these companies go hand-in-hand with such concerns as the necessity of proper permitting and focusing on having a safe working environment.
The time element involved can sometimes lead a subcontractor to neglect such integral areas. Turnkey construction allows for proper supervision so that the business doesn't have to continually keep tabs in this department. 
Cost-Friendly
Undoubtedly, the most eye-catching reason for the commercial construction industry to consider a turnkey solution is that it helps make the bottom line more inviting. After all, streamlining the process helps cut the fat that will always take a bite out of what began as a profitable venture.
Much like the value of coordination, the turnkey model allows duties to get funneled through a single entity. In essence, it's the construction equivalent of buying in bulk, since one investment covers it all.
The Best Choice
Nationwide Construction has been around for more than three decades and has an established legacy as a quality commercial construction company. That includes extensive experience in turnkey commercial construction projects. So when the time arrives that a turnkey solution is what your company needs, contact us online let's get the ball rolling on that project. We look forward to hearing from you.