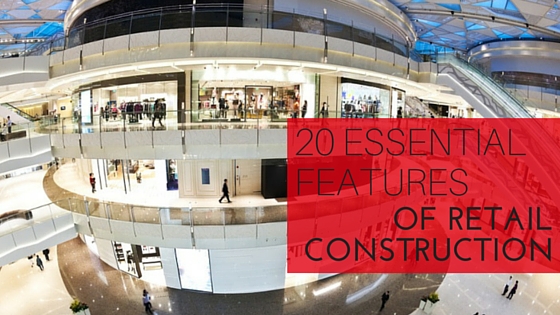 Current State of Retail Construction
Retail construction has entered a boom in the last couple of years. Because of the sheer number of new retail construction jobs that have started, it can be difficult to determine what sets the good jobs apart from the merely run-of-the-mill construction. There are a number of factors that set high-quality construction apart from the mundane, such as:

1. Tech Integration
The successful retail outlets are those that seek to embrace technology and make it a bigger part of the shopping experience, since this appeals to the average user today.
2. Brand Storytelling
Storytelling serves to add flavor to the retail outlet and is quickly becoming an important aspect of any commercial building.
3. Authentic Setting
Gone are the days when the cookie-cutter stores that one finds in malls would suffice to entice the customer to buy. Now, consumers look for something brand new to attract them to a product or a company.
4. Being Green
Recyclable materials along with initiatives towards reducing energy wastage all fall into this category.
5. Staying Current
A number of different retail outlets are discovering how keeping up with the current trends in design are important for business. They have decided to do major overhauls in order to make their locations more attractive for customers.
6. Setting Up Outside
In the mid 90's, European retail locations decided to utilize their natural outdoor beauty in their design elements. It is only now that North American designers are catching up with their brilliant innovation of combining the outdoors into a viable commercial space.
7. The Mixture of High End with Low End:
Proper design involves mixing both high end and low end in equal measure to make a more balanced shopping experience.
8. Location
Buildings are usually best located where there is maximum coverage of the surrounding area. The shopping center serves as a hub from where retailers can impact and influence buyers in a wide catchment zone.
9. Utilization of Empty Space
Good construction tries to minimize these open spaces, utilizing them to include more advertisement or handily located kiosks.
10. Looks Count
Even though a retail location is of the budget variety, it doesn't mean it needs to look gaudy or tacky.
11. Invite Customers to Stay Longer
Good design encourages customers to spend more time at a location and possibly spend more money there as well.
12. Omni Channel Retailing
Instead of keeping the brick and mortar store offline, some stores have moved to make is an online outlet as well. The design of the building can help to accentuate this as a selling point.
13. Combined Functionality
In the case of a mall or shopping center, designing the outlets around a central location or attraction such as a fountain is a good idea since it incorporates both classical design as well as something that appeals to the modern consumer.
14. Ability to Adapt
Being able to grow and evolve with the needs of the consumer is the hallmark of a well-designed retail outlet.
15. Use What's Already There
Good design incorporates the existing beauty and natural attractions within an area.
16. Accessibility
Retail design requires that the consumer be able to approach the store easily and navigate through it effortlessly.
17. Know your Audience
When building an outlet, it is important to know the kind of customers that will be appreciating the décor, allowing a builder to adapt to that particular style.
18. Gathering Areas
In most malls today, especially in those situated outdoors, there is a gathering area where concerts or other public performances can be done. This is the equivalent of the indoor mall's auditorium or atrium.
19. Incorporate What a Business is Known For
Storytelling, as mentioned above, only incorporates part of the brand message. Some brands depend upon the building to help them sell their image.
20. Stand Out
Probably the most important thing that a retail building needs to have is the ability to stand out in the audience's mind. It's quite easy to simply design a building, but difficult to design one that stays with the consumer. That is the challenge many designers seek to overcome.
The Growth of a Well-Planned Retail Outlet
Retail is one of the areas of the economy that will grow as long as there are consumers. A well-planned retail outlet that incorporates some of these features stands to benefit in both the short and long term, from their dedication to detail. Developers and builders must try to introduce these new ways of looking at retail design in order to add to the marketability of a retail outlet, and as a means of refreshing what might be an already well-known business or brand. Nationwide Construction has long been a proponent of forward thinking commercial building design. Contact us today to see how we can aid in the development or renovation of a commercial property you would like to see become a retail superstar!