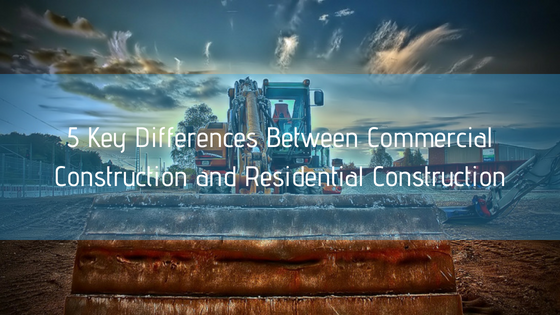 The construction industry is an entity that's made of different facets that all provide the necessary service for either a business, municipality or individual. There are those that simply lump everything that's involved within a construction project and make no differentiation between commercial construction and those serving the residential market.
In reality, there are distinct differences when it comes to there particular segment that need to be taken into consideration. Making an assumption that construction is a one-size-fits-all concept can lead to a rude awakening when all the differences are noted.
Below are five ways in which the commercial industry differs from residential construction:
Uses
In this case, the definition of residential is fairly straightforward, with most people understanding that it relates to the construction of a home, apartment or other structure to live in for the owner or tenant. In contrast, commercial construction is performed for businesses who might be in need of a new office building, additional establishment or industrial facility.
In addition, the commercial builder has to concern themselves with potentially building for different businesses being run within the same structure. Contrast that with the traditional single-family home residential builder who is essentially building for one person.
Codes and Permits
Construction of any kind means adhering to the specific codes and obtaining the necessary permits from the particular municipality where a structure is being built. The chief difference here when it comes to the residential and commercial varieties is that additional codes and permits are connected to the commercial market. That's because of the many different aspects of a building's makeup.
For example, the infrastructure needs for commercial buildings need to address a variety of different things. These include safety factors or certification of something like elevators, more elaborate electrical and IT concerns as well and the development of parking lots or much-larger parking garages. In short, the level of complexity when dealing with codes and permits is much higher when it comes the commercial side of things.
Materials
The residential market generally relies on wood when it comes to the materials it uses during a construction, while those tasked with erecting commercial buildings will use steel frame. A very simple reason stems from the fact that the costs between using wood and steel is stark, meaning that the average homeowner generally can't afford that sort of investment.
Given the scope of some building projects, commercial builders need to have established relationship with suppliers that helps ensure consistent work is being performed. Any breakdown in this chain or having tenuous relationships with such suppliers can make for unwanted headaches.
Equipment Needed
While mansions are being built on a daily basis around the world, the reality is that even the largest homes can be dwarfed by construction of a commercial building. That larger size will mean that the use of a crane will be needed, with other pieces of equipment also necessary that wouldn't ordinarily be found in residential construction.
In order to use this equipment safely and in the most efficient manner possible, properly-trained personnel has to be hired to operate it. Similar skills really aren't needed much on any residential jobs, with experienced operators helping avoid the prospect of abrupt shutdowns due to accidents with said equipment.
Work Pace
The idea of any project in this realm is to get it completed as quickly as possible. However, businesses move at a much faster pace than the average homeowner, which means that the expectations for completion when it comes to commercial clients will be set at a very high level. That's due in part to the larger investment required, which helps pay for the proper personnel
All this means that the business that handles such work should have a track record of success, with this type of experience already ingrained into their collective mindset. These companies establish realistic deadlines that don't attempt to cut corners, but still have the ability to complete them as quickly as possible.
Making the Right Choice
Nationwide Construction is a veteran of the commercial construction industry, possessing more than three decades of experience in this highly-competitive market. To last that long, we've had to be attentive to client's needs and handle matters in a cost-effective and expedited manner. So when the time comes that you need a commercial structure built, make sure to get in touch with us at Nationwide Construction.