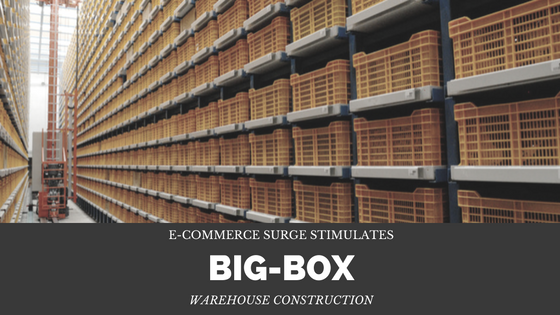 In decades past, a distribution warehouse was a big area with a few people in it that supplied materials to various physical stores. Today, however, the dynamic of distribution warehouses is changing, and warehouse construction is exploding.
The reason for all of this is simple: e-commerce.
As mega-brands like Amazon rise to prominence, the demand for massive, densely staffed, highly stocked warehouses is exploding. While warehouse construction may not have the same appealing ring as "high-rise construction" or "new condominiums," it's currently the area of commercial real estate that is experiencing the most growth.
The Connection Between E-Commerce & Warehouse Construction
In 2014, the demand for warehouses that exceeded 500,000 square feet reached the highest point it had seen in seven years.
Why such a need for these massive storage facilities? Again, e-commerce.
As more and more people turn to online shopping, and customers around the world begin to expect quick delivery, brands that supply these e-commerce companies are starting to buy up massive warehouses designed to cater to the ongoing e-commerce boom.
Today, warehouse construction caters less to brands specializing in transload goods or palleted goods, and more to brands specializing in direct-to-consumer product fulfillment.
What's more, the location of these massive warehouses has begun to shift. While cities like York and Harrisburg Pennsylvania used to be the preferred location for these major fulfillment centers, the newly constructed warehouses are moving closer to areas like New York City and other major commerce corridors that allow them to reach various locations on easily.
How The Need for More Warehouses Influences The Commercial Construction Industry
In 2015 alone, approximately 100 warehouse projects, totalling 60 million square feet, were completed in the U.S. This number broke national records and set the stage for the long-term increase in warehouse construction.
While warehouses are still being constructed for more traditional uses, the e-commerce industry is currently the primary driving force in the construction of warehouses that exceed 300,000 square feet. As it stands today, these warehouses showcase an impressively low 7.4% rate of vacancy.
As if all of this weren't enough, the e-commerce sector is currently growing at a rate five times as fast as brick-and-mortar sales in the U.S., which has caused the rate of warehouse construction to double in the six years between 2009 and 2015.
This trend shows no signs of slowing down anytime soon, and warehouse construction specialists are preparing for busier years than they've ever known before.
The Future Of Industrial Construction Is Warehouses
As e-commerce continues to boom and brands continue to search for the right warehouse locations from which to execute their sales and distribution, warehouse construction remains an increasingly in-demand facet of industrial construction.
In addition to being completed quickly, today's brands want these massive warehouses to be large enough to accommodate ongoing growth and centrally located enough to enable them to meet the spiking demand for services and fulfillment.
Luckily, a few industrial construction companies around the country are succeeding in fulfilling that demand. One of these brands is Nationwide Construction.
Specializing in commercial construction services, Nationwide Construction is the right team to ensure that your warehouse construction or industrial building project goes off without a hitch. In today's fast-paced market, you can't afford to fall behind, and Nationwide Construction helps ensure you'll stay on the cutting edge of the industry.
Contact us today to learn more about what we offer or to find out about our services!