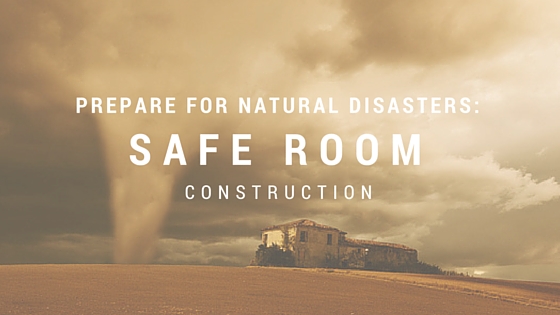 It's not enough to simply run through your fire or tornado drills with your family. It's not sufficient to talk about plans that don't ever eventuate into anything. Some plans should be put into place before the next big natural disaster hits, so you and your family are safe. When tornadoes or heavy cyclonic winds ravage the city, Dallas construction firms get overrun with requests to build protection in people's home. Safe room construction is an important consideration to make, in case your home finds itself in the middle of the worst Texas weather. But have you thought of everything? Don't wait until you're in the safe room to discover you've forgotten some of the basics to get you through the next big weather event.
Food and Drink Supplies
Getting canned goods is a good start to being prepared for a big disaster. And of course, don't forget the absolute most important part of this plan: a can opener. What good is 40 cans of Hormel's Chili to discover you can't get them open? Water is a must as well. A good rule of thumb is to provide a gallon a day for at least three days for each family member in the room. This provides potable water for drinking and cooking if required. Have these set aside out of the light so as not to attract any stagnation in the water.
Medications
It is essential that you have a first aid kit. I would hate to be without some basic medical supplies in an emergency. Bandages, syringes, dressings, and basic medications are all included in the most basic of medical kits. That's not the most important part of it though. If your family has any medication requirements, you should set a good quantity aside in the safe room. If you can't get access to extra medication from your doctor, we recommend having the required medications stored close by to the safe room so it doesn't require a detour to grab them as you scurry inside.
Emergency Supplies
Part of any basic safe room supplies should be a flashlight, fresh batteries, a crank radio, and a whistle for calling out. These should all be ready to go inside a duffel bag in the safe room. You should also include some items that could be unique to your family. Include diapers if you have infants, a leash and dog food for your pet, and a wrench and hammer, which could come in handy. It's also wise to store an old pair of shoes permanently in the safe room. These are the kinds of items that you'll wish you had if you hadn't thought of them before some big event happens.
Safe Room Construction Services
If you're considering any sort of safe room construction, it's a wise move to be prepared to shelter and protect your family. Awareness is the first part of the plan to survive a natural disaster. If you need a Dallas construction firm that has extensive experience in both domestic and commercial renovations and remodeling, Nationwide Construction is your trusted source. We can tailor anything to your needs and help you plan out the perfectly equipped safe room. You're safe in our hands.