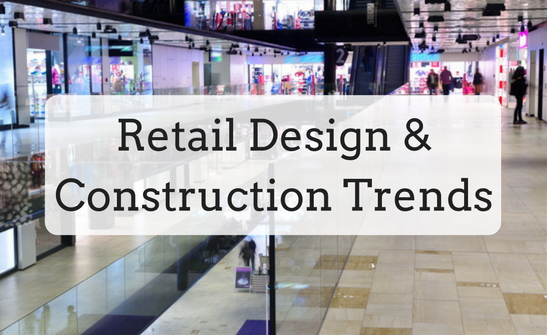 More shoppers are turning to online options, but traditional brick-and-mortar stores are still thriving. In fact, retail construction over the next few years could be more in demand than ever. But in order to be competitive, retail developers, architects and construction companies need to stay on top of the designs that a new generation of consumers are looking for. Here is a breakdown of some of the most popular trends in store design.
Green Sells
Eco-friendly construction immediately suggests a responsible tenant with a social awareness that consumers empathize with and appreciate. While this isn't a new trend, you can take it one step further by incorporating green technologies into store plans. Sustainable and recycled materials, solar panels, LED lighting, and smart technology to automate heat, AC, and smart lighting both inside and out will click with consumers as well as save money on running costs.
Embrace Nature
Most people naturally prefer to be outside in the sunshine, rather than trapped in cluttered aisles under harsh fluorescent lights. As part of eco-friendly retail construction, you can give consumers more of a natural vibe to automatically elicit a freer mood. This could include skylights, high windows, UV bulbs, potted plants and shrubs, and waterfalls or fountains. You may want to leave at least one common area where you can combine these features into a pleasant and relaxing spot.
Creativity
Unique construction is also important. Rather than creating bare-bones, functional interiors, your plans should incorporate your creative tastes to give both indoor and outdoor spaces some character. Retail centers that are more unique give consumers the idea that you're providing a special shopping experience. The right furniture, fixtures, and even aromas can make a difference. Industry décor, such as walls decorated with sports memorabilia in a sporting goods store, add comfort and incentive to shoppers. They feel they're in the right place.
Location, Location, Location
Location means everything. Sadly, business growth doesn't come easily, if at all, to some areas. Some "boutique" retail centers get by with higher margins and catering to a specific clientele. But they, and small town businesses, have a limited market and therefore limited potential. It pays to do some research and find an environment where business is not only thriving, but provides you the right balance of low costs, high traffic, and the most promising demographics for your tenants. Understanding the culture and preferences of your target market is important in making the choice.
Bigger is Not Better
Planning big structures in anticipation of growth may not be the best choice. It means you have higher taxes, have to stock more inventory to keep shelves from looking bare (or keep more tenants to fill your storefronts), and spend more on maintenance. Big, generic, warehouse-type outlets work with some discounted products, but today, more consumers are looking for the shopping experience even more than price. Shopping should be fun and satisfying, and that starts with unique construction. Don't pay for space you don't need.
Customer Amenities
You might also think about planning space for those extra touches and incentives like vending machines, bargain bins, coffee shops, and so forth. Functional vs customer-centric use of space can spell the difference between a generic department store feel and a more pleasing experience. Including technology like free Wi-Fi, product lookup kiosks, internet cafes, phone charging stations, and other services could also draw more customers.
Today's consumers want a more atmospheric, engaging experience than the generic feel of the big chain companies. We can help you make the right decisions before you spend a penny. Please call our office or click here to learn more about how our experienced team and no-obligation planning packages can help your business.