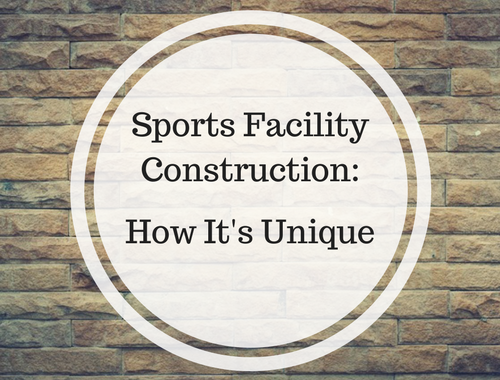 Commercial contractors routinely take on large construction projects, but few jobs are as challenging as constructing a sports facility. At Nationwide Construction, we offer years of sports facility construction experience that begins with design and ends with completing the complex. While all types of construction involve many of the same steps, there are some challenges that are unique to sports facility construction.
Strict Deadlines
The beginning of a particular sport's season is usually definite, so it's vital that the contractor can meet specific deadlines for completing a sports facility project. There's no wiggle room when an athletic season is on the line!
Congested Sites
Whether the facility will house a local or major-league team, it's likely the complex won't sit on a very large piece of land. Small, local teams tend to build their facilities in the middle of downtown, and large teams usually locate their complexes in the centers of large cities surrounded by such establishments as restaurants and hotels. Fitting the facility into its surroundings can be an interesting and challenging step in the project, but it's one that we love to take on.
Dedicated Owners
Because owners of sports teams are noted for their extreme passion for their team, most will be directly involved and dedicated to constructing their facility. It's also standard for large teams to employ committees to oversee the project. In addition, the local community often shares equally in the passion for the team and the construction project. These factors tend to pressure the owner to adhere to a prompt, successful completion of the project. It also adds a lot of emotion to the project, coming in from all sides. That's why it's important to seek out commercial contractors who are experienced in sports facility construction, as they've been through the process and understand how to handle the different situations that might arise during the project.
Just as in the sport itself, team collaboration among owner, architect, engineer and contractor is essential.
Environmental Challenges
Multi-sport facilities face unique challenges. HVAC systems need to be able to accommodate the particular sport that's in season. Lighting also needs to be compatible with that sport. For example, during hockey season, the facility must remain cool enough throughout the day so the temperature will be ideal for a game that night. Lighting in a multi-purpose facility needs to be off when not in use and also must remain cooled down before turning it back on. Maintenance workers must be aware when the next event is scheduled so there's enough time to turn the lighting back on before spectators arrive.
In addition, there must be time allowed for limited lighting and heating so maintenance workers won't need to deal with excessive discomfort when they're cleaning or performing other tasks.
Challenges in Design
Because sports facilities are usually relatively large, it's sometimes a challenge to create an intimate atmosphere in which spectators feel they're close to the action. Also, because of the sizable revenue they often generate, such premium seating arrangements as suites and club spaces need to be strategically situated.
Probably one of the biggest challenges in designing sports facilities is creating an exciting atmosphere that will attract fans to personally attend the event. The facility must successfully be able to compete with television, smartphones and other devices in luring fans to attend.
Our Experience
At Nationwide Construction, we know that every sports facility must serve the needs of the athletes, staff and spectators. We also know that a well-built multi-purpose facility will represent the finest of its organization and community and is capable of year-round operation.
If your team or organization plans to undertake a sports facility construction project, contact Nationwide Construction today to receive our complimentary design package that includes both site and floor plans and a 3-D presentation featuring interior and exterior overviews. Winners choose winners!