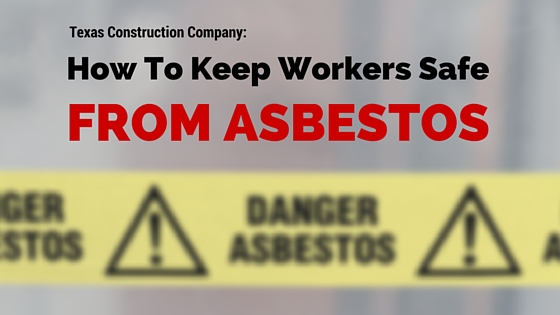 When our Nationwide Construction employees are working on a commercial construction site that may have asbestos present, there are many things we do in order to keep from being exposed to it. Asbestos is known to cause a number of health problems for those who work around it, such as fibrotic lung disease, lung cancer, and mesothelioma. No one wants to deal with the health problems associated with asbestos exposure, which is why our employees take care to do several things when working in an environment where it may be present.

Wear a Mask
One of the first things our professionals do when they are working on a commercial construction site with asbestos is to wear a mask. Wearing a cloth mask will prevent any airborne asbestos from being inhaled, which is one of the main ways that it can harm a person's body. They also wear the mask on construction sites, because there is usually dust and debris in the air, which can also cause harm if inhaled. If the job site has been confirmed to have asbestos, they will wear a respirator with N-, R-, or P-100 cartridges, which is what the Occupational Safety and Health Administration (OSHA) recommends.
Don't Consume Anything On-Site
Another way our construction workers can protect themselves from ingesting asbestos is to avoid chewing gum, smoking, or eating lunch anywhere near the construction site. Asbestos particles can easily get into something a person is consuming, which in turn will get into the body. Avoiding any of these habits on the job site will prevent asbestos from becoming a health problem. It's best for the workers to smoke or eat lunch away from the job site, preferably 100 feet or more, and to do it outdoors where they are not in an enclosed area.
Taking a Shower after Work
One of the most important things our workers do after working on a job site where asbestos could cause health problems is to take a shower as soon as they are done working. Rinsing the asbestos particles off of your body will prevent it from becoming a problem later on. Many people think they are safe after leaving a job site and have removed their mask, but asbestos particles can still be present on someone's clothing and inhaled after work. Changing clothes and showering as soon as work is complete will prevent the asbestos from getting into the system.
These are just a few of the most important things your workers can do when they're working on a job site where asbestos may be present. Our Texas construction company makes safety education and training for job sites where harmful substances are present a top priority, and our employees use this knowledge to ensure they are as safe as possible. There are also other things our employees take care to do, such as obeying warning signs, avoiding certain areas, and wearing the right type of clothing for work.
There's no reason workers should get sick from asbestos if they follow all of the proper procedures and ensure they are following all OSHA guidelines for being in a construction site with asbestos present.