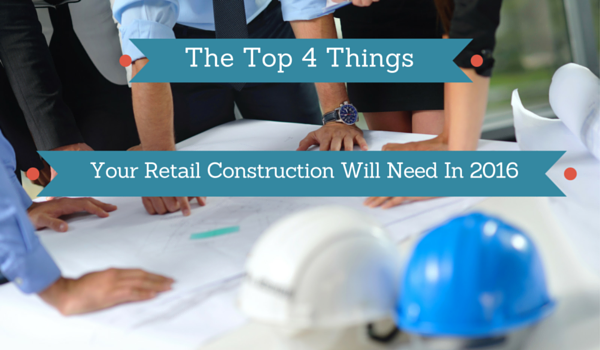 When you want to invest in retail construction, it can be difficult to decide who to work with. This is especially true if you want your new property to remain successful in a tough market with high expectations from retail rental consumers. If you are looking for how to appeal to today's modern retail property renters, keep reading. With our experience in retail construction, we have noted four trends that design and building companies need to know in 2016.
Retail Construction Green Initiatives From The Ground Up
Modern retail businesses are always looking for ways to reflect they are environmentally responsible to their target audience. What better way to show how your company is green than to do business in a green place of business? Green initiatives are often part of a building's foundation, and getting your retail construction business involved in retail green initiatives will be essential in 2016. This type of next-level property can include efficient air conditioning reduction, premium air quality, and money-saving energy-efficient lighting. Rainwater collection and smart parking control are also very appealing to potential renters in 2016.
Let Nature Welcome Shoppers
The days of the simple big box retail store are being looked down upon in 2016 because people want more nature around commercial structures. While this idea is simple in concept, it can be difficult to renovate a landscape surrounding a retail store that is covered in parking lot concrete. But with the right designers, you can construct a retail property with things outside of the building itself that will draw people in to spend money. For instance, outdoor dining designs encourage a restaurant to rent a space for the long term. Water features, art installations, "green walls", and native species landscapes designs can frame a building for retail shopping rentals that make the modern consumer feel more welcome.
Construction Workflow Know-How For Core City Locations
The ideal retail location does not always need construction from the ground up — some of the best retail businesses were major retail renovation projects. Today, many retail businesses are trying to move back to the core of cities and leave the suburbs behind. While there are many mixed-use properties being zoned for commercial use, many investors do not know how to engineer the work plan to renovate in tight city spaces. For many business plans, a bank requires funding retail construction investments within the city limits. Investors will need more experienced construction industry consultants at the helm of the ship to steer the projects toward success.
Correct Price-Per-Square-Foot Building Sizing
A key to success for many investors in retail property is anticipating their potential customers needs. Retail property can be turned down due to incorrect floor space. For instance, you may want to rent out to a trendy retail shop that matches the other boutique shops on the same street. But if your rental has too much floor space in the wrong places, it can cost the renters more money than it is worth. Designing a building's layout is only one part of the design process and building for future renters requires behind-the-scenes for spacing.
Click here or call 817-473-0484 to learn more on how to create retail spaces that continue to draw profits far beyond 2016.